29-07-2020
Goldflame & Jaidy
We are so proud to have been able to find this super pony Winters Goldflame for Jaidy!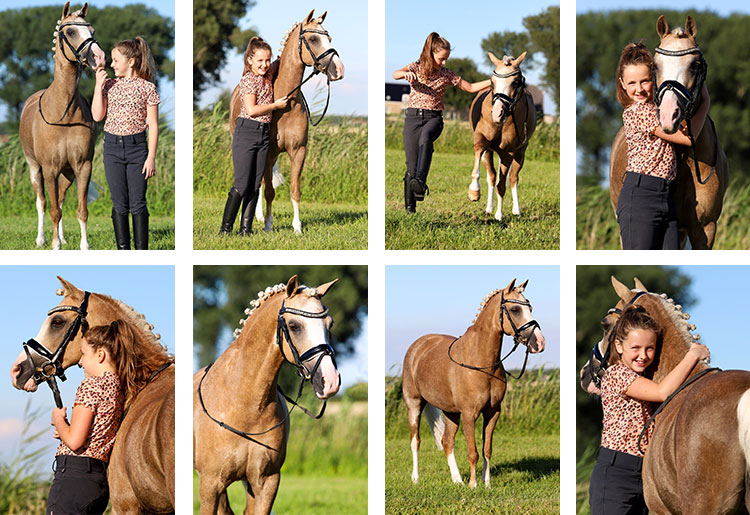 ---
28-06-2020
LOVE OF YOUR LIFE?
Well this little MACHO IS THE LOVE OF JAIDY 's life...
MACH IS ALSO OUR MASCOTTE AS HE BRINGS US JOY AND HAPPINESS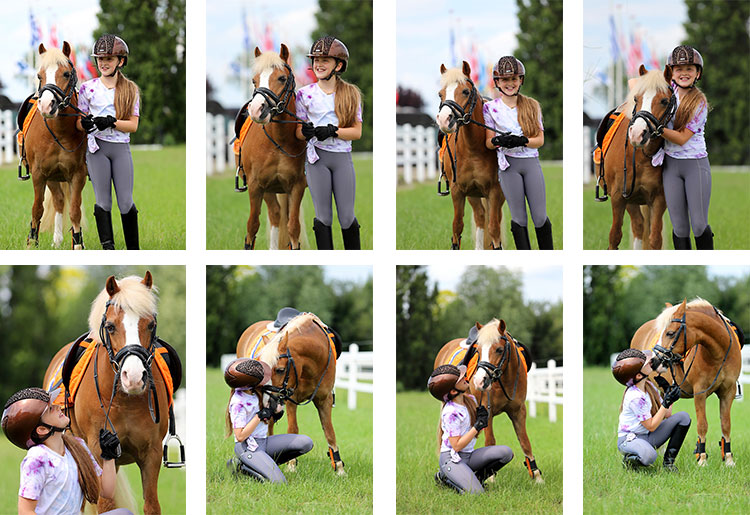 ---
27-06-2020
And MACH AND JAIDY ARE ALWAYS TRAINING JUST IN BETWEEN OUR SALES HORSES AND OUR TRAININGPROGRAMMES.
Is there a customer coming to our barn they will definitely meet Jaidy and Macho as Jaidy wants to show him of. Therefore this special EDITION
AND ONE THING MUST BE VERY CLEAR: NOT FOR SALE. ( macho is our mascotte and we never sell our luck or Jaidy's love ❤️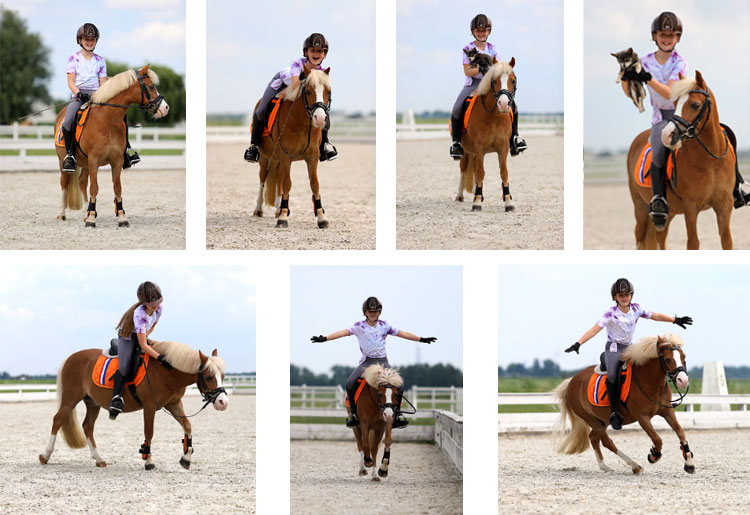 ---
02-05-2020
Update on Gartina
Hi Judy,

Just giving you a update on Gartina. She has recently won overall Champion medium in a 5 star event and now she will start her training at Pre St George.

Hope your all keeping healthy at this difficult time with the Coronavirus.

Kind Regards,
Pam

---
16-01-2020
Duna in Beatrice's life
We just want to thank you again for the wonderful opportunity to have Duna in Beatrice's life!!
In the first CPEDI of the season the couple beat the ranking Canadian and Mexican!
Every time Beatrice and Duna are announced, the man says "acquired from Judith de Winter Dressage in the Netherlands!"
A few pics from this weekend in Florida.
All the best wishes for 2020!!
Elizabeth de Lavalette

---
23-08-2017
Grand Prix with Washington DC
Hi Judy,
I hope this finds you well. Beth told me you have been having some health issues. I hope you are on the mend.
I am writing to tell you that I have shown the Grand Prix (4 times now) with my wonderful horse Washington DC!! I just wanted to write to you and thank you so much for helping me buy him. He is so my horse. He is funny, talented, quirky, sweet & so beautiful! He makes me laugh every day and it has been so much fun that he and I did our first Grand Prix together. We did receive high enough scores this past weekend to have earned our USDF Gold Medal!
I will send some pictures in separate emails. One that I will send is from a photo shoot we did at our barn. He is so gorgeous, the picture looks like a painting! I'll send some pictures from the show as well.
Thank you again so very much!
Warmly,
Karen Whitman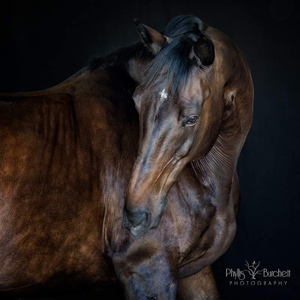 ---
27-01-2017
Edinho and Joan first show 3 Ed level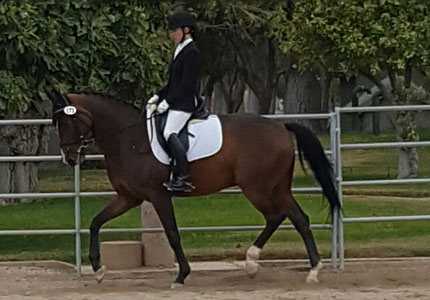 ---
28-11-2016
Aragon Freestyle Italian Championship
Hi Judy,
I would like to share with you our third place in M at freestyle italian championship. The horse is fine and we are very satisfied.
Thank you.
Best regards,
Carlotta

---
28-11-2016
Zidane won
Hi Judy,
Zidane has settled in lovely and has started competing with Lucy. He is perfect for her.
He won two firsts today!
Irene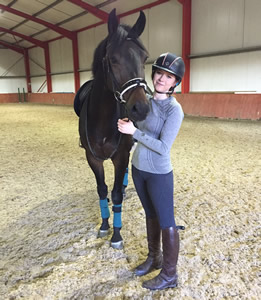 ---
05-10-2016
Galery of fame :)
Hello Judy,
Sending you photo from CDI Fot in Hungary two weeks ago. Our Czech Team of junior riders won 1, 2 and 3 place. Eva with Belle Enie first and Anna with Zidane third. So one could see 3 CZ flags on the ceremony.
Katerina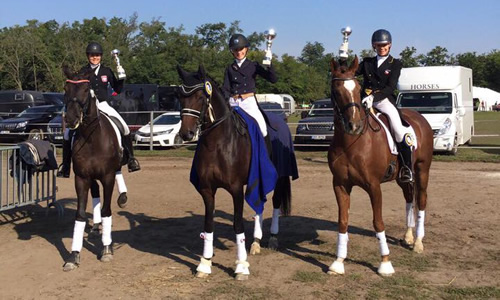 ---
05-10-2016
Safe and sound
Hi Judy,
Zidane arrived on Friday safe and sound and has settled in nicely. Lucy has ridden him three times now and he has had a play in the field for a few hours today. He seems happy.
Thought you would all like to see Zidane tonight. He likes lots of carrots and hugs.
Irene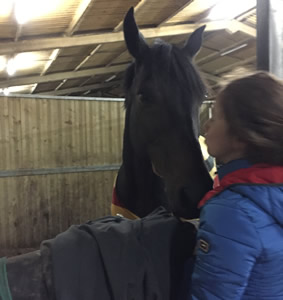 ---
23-09-2016
Willem and Elena winning their first tests - on both days
Dear Judy
I hope this email finds you and your family weel, fit and happy!
On last September 10th and 11th Willem and I had our first tests and we won both days with a very good score.
Surprisingly he was very excited and anxious as he has never been at home, but he was beautiful and after some stress the first day, the second day I was able to manage him much better, but it was in any case success on both days.
He's a super horse!!!
I'll keep you posted and updated on our career!
All the best
Elena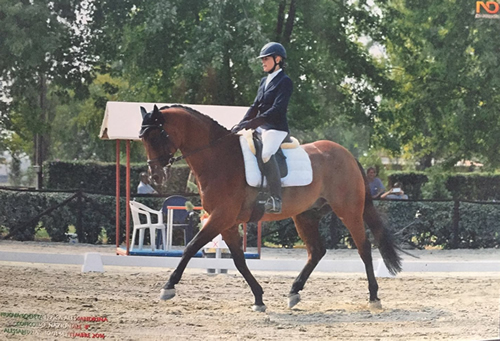 ---
05-09-2016
João met Dancing Queen
João Branco met Dancing Queen gequalificeerd voor de Finale Equissima,Coup de Leman, Kür op muziek, Klasse M in Zwitserland. In de finale 2 e plaats gehaald,in de gecombineerde Kür Cup klasse M,S en Intermediare. Beste M kür,en jongste paard in de Cup.
Ook is João met Dancing Queen gequalificeerd voor de Finale Coup Romandie (Fribourg,Vaud,Geneve en Valais) op 10 September in Sion. Trotse eigenaren zijn Konrad en Regula Mühlethaler.

---
26-08-2016
Belle-Ennie 3rd place at the European Championship
Very much succesful with one of our Sales horses Belle-Ennie. Congratulations with this wonderful achievement!!! Also must be mentioned that this European Championships for children was won by one of our Sales horses Lauda, for the russian team. Congratulations also for this great combination. Both Lauda and Belle-Ennie were succesful in Holland and have proceeded there great achievements under these two Young children riders. We are proud that our Sales horses are doing so well under their new owners.
Hello Judy,
I am returning today from Florida back to Europe and just wanted to share with you great news J. Belle Ennie and her rider Eva won bronze medal (3rd place) at the European Championship for children in Oliva J. This can be certainly attributed to your ability to find great horses for riders. You should be proud J. This is also first time for the Czech Republic to have such a success.
Katerina
Eva with belle Ennie 1th place childrens category en dan als eigenverhaaltje bij references:
Judy de Winter is very proud that so many of our sold horses are doing so well under their new riders and owners and congratulate Eva with her First place with Belle Ennie. We also congratulate Annicka with Zidane and her First place at junior level and Zoolander and his rider with her firsy place at senior rider.
All these horses were in our stables so please do not hesitate to contact us to find your next super horse!
Annicka with Zidane 1th place junior category.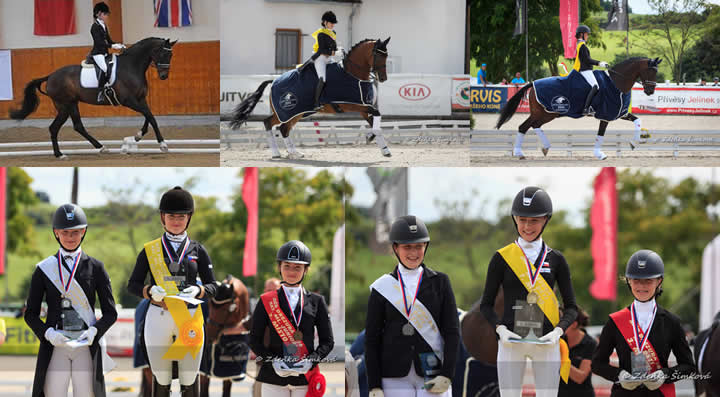 ---
26-08-2016
Zoolander winning senior
Dear Judy,
Having some news:
- The National Dressage was very successful for us in terms of building of the successful horse/rider match and management brand :
- Eva and Belle Ennie - 1st place in children category
- Anicka and Zidane - 1st place in junior rider category
- Sofie and my mare Lady Chatterlay - 1st place in young riders category
- Zoolander competing with a senior rider in team category - 1st place in teams
Isn`t that great :-)?
The pictures you can see here are from Zoolander winning senior rider in team category
2 photos of Zoolander winning the senior category team competition with two other colleagues.
Katerina

---
21-07-2016
WONDERFUL Willem
Dear Judy
I hope this email finds you, your family and horses all well. Just a quick note to confirm you how WONDERFUL Willem is!!!
Apart from being beautiful as a statue, he`s still behaving perfectly, always ready to work and cooperate, and I can tell you it`s the first horse ever that makes me feel always secure and confident and I can really focus only on myself doing the right things.
In September we will go out competing and I`ll keep you posted of course!
I also would like to ask you about which was the model and brand of the saddle you were using on Willem just in case I should think about changing my saddle.
Also if you ever have a used saddle of those that you want to sell at a favourable price, let me know.
Thank You so much!!
All the best and a big hug
Elena
---
29-06-2016
ITALY
Hi Judy,
I'm Carlotta, Aragon's owner. I'm writing to tell you that we arrived second in M, during the regional championship. I'm very happy, Aragon is a very good and sweet horse.
I attach some photos of competition.
Thank you very much.

Greetings to all.

Carlotta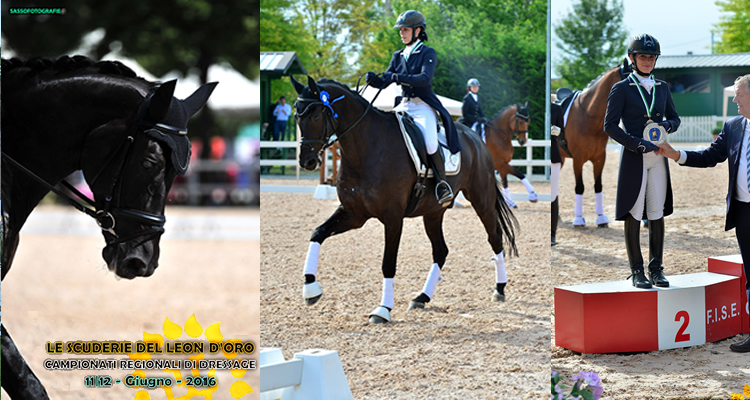 ---
09-06-2016
Belle Ennie 69%
Hi Judy,
I'm sure you and the former owner of Belle Ennie will be pleased to know that she is now a successful international horse, she has won the Children's Individual at CDI3* Mariakalnok with over 69% and will be going to the Europeans in Spain this summer. We will be thinking of purchasing another juniors horse in the future,. There is no rush behind it. If you see something interesting, please let me know.
Cheers, Ema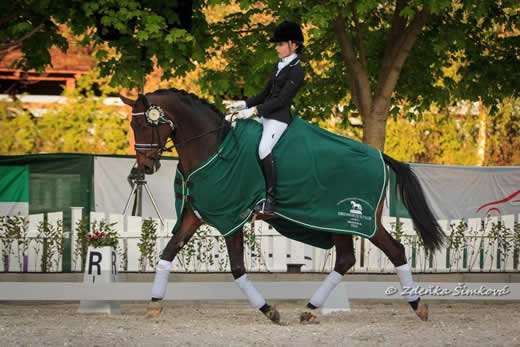 ---
09-06-2016
Home safe!
Judy,
All four horses have been transported safely! :-) The mares are at the quarantine which is very nice and beautiful. I am going back up on Monday to ride and spend time with them.
The ladies are very happy with their geldings! Thank you so much for all you've done, I look forward to making a return trip this fall to see you.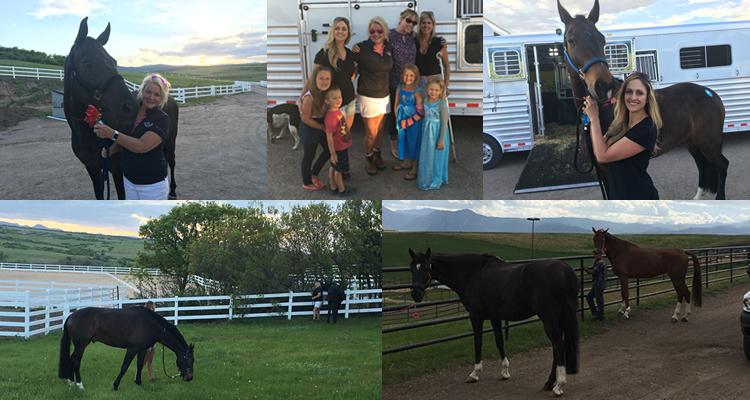 ---
13-04-2016
Well Done's success
Hello Judy,
You probably have already read this latest issue of Eurodressage, but in case not, here is an electronic version for you. Needless to say, we are thrilled with Angelika Fromming's detailed article summarizing the wonderful symposium she and Johann Hinneman conducted at Pinelands Farms in Maine. Well Done and Gwyneth are featured at the top of Angelika's article. It was an exceptionally wonderful and informative symposium and a great thrill. I think Gwyneth sent you a message recently letting you know of Well Done's success at Intermetiare 1 here in the US.
Best regards,

Read the article: www.eurodressage.com
---
13-04-2016
Belle Ennie
Hi Judy, I am sure Katerina already informed you that unfortunately I am seriously injured and therefore have to postpone my horse search. I am however very pleased to let you know that today Belle Ennie won the L class in Donau Bohemia Trophy CDN Weikersdorf with almost 71% and got 6th in the highly competitive M level with just under 67%. They will do their first CDI at the end of the month. Hope everything is going well for you, have a great weekend, Ema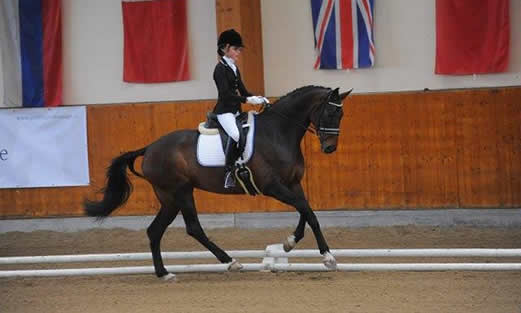 ---
13-04-2016
Udor
Hi Judy,
Udor 65% at the CDI today.
Ryan
Dear Ryan,
Well Done!!! Good job. Congratulations
Judy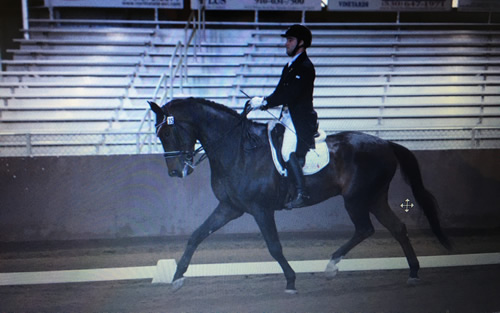 ---
29-10-2015
Well done!
Hi Judy!
This is Jean Marquand's Well Done... I've been riding him this summer in Intermediaire 1, winning with scores in the high 60s. This is a picture of him 2 weeks ago. He is working some lovely passage. He has a very nice piaffe, and I finally got 15 one tempis with him today!!
I will ride him with Angelika Fromming and Johann Hinneman at Pineland Farms next week... He is a lovely horse!!!!
Gwyneth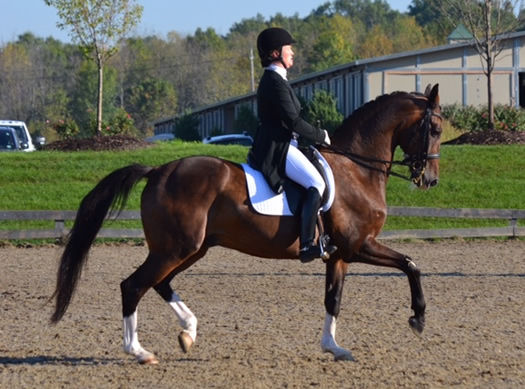 ---
05-10-2015
Aragon / Pikkert
Hi Judy,
Hope your well, and business is good
We have qualified Aragon W in our first competitive dressage, we won The medium freestyle and second in the advanced freestyle Music, he is super boy. We will compete at the regional championships in 2016!!!
Sadly I am now injured due to being kicked by a Stallion, stomach, rib and Head injury, leading me to 3 months no Riding!
Next year we will be looking for a horse, a little quicker behind at PSG level. Still love you grey mare, when I rode her I fell in love.
Attached photos of Pikkert for your news page if u like.
Regards Sarah
***
Hi Judy,
Pikkert has arrived safely, I love him to bits ! He's had a lunge, and then I had a little ride on him. He was amazing and really happy. Thanks Judy for everything!
Sarah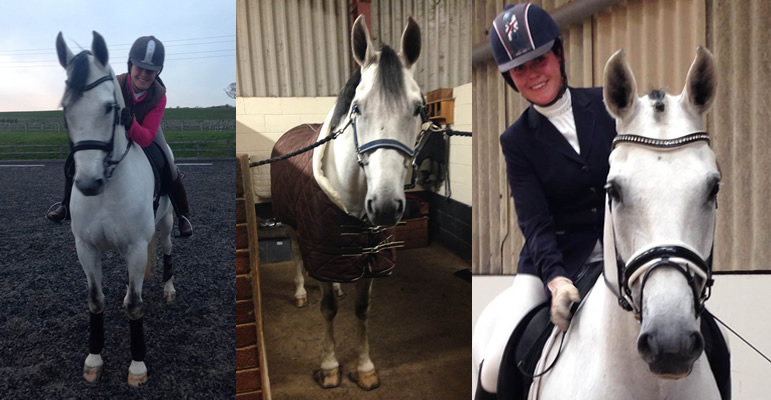 ---
04-04-2015
Theodore (Dorento)
Dear Mrs. Judy de Winter
Thank you so much for helping me find Theodore! It was a very hard decision, but you helped me so much, and now that he is home, I know that it was the right decision! He was a little afraid coming off the trailer and it took him a while to get used to the snow, but he has never been any trouble for me . Theodore (Dorento) has been absolutely perfect and always tries his hardest the whole time I ride him. I have already learned so much on him and am looking very forward to a new show year on him! He is doing very well in his paddock in the cold weather, although he is more than happy to canter to the gate when I come to get him! He has the most perfect temperament to ride, We have had two "mockings" already (lessons where lots of people come to watch you ride) and he does very well with the sudden increase in people coming in and out with various items, which is a very good sign for show season. Everybody loves him! He is very good around all of the other horses and extremely reliable in the barn! Thank you so much for all your help in finding him, he is definitely the best choice I could have made!
Sincerely,
Claire Robinson
---
04-04-2015
Freedom / Freddie
Hi Judy,
Hope all is well with you. Just wanted to let you know Freedom, now "Freddie" has settled in beautifully and is absolutley awsome in every way!
It is clear that he was very well started and taken care of, pls let his previous people know. I am riding him in a clinic with Jan Ebeling in May, will let you know how he is doing.
Thanks again,
Andrea Attard
---
02-02-2015
Eskandar won the US National Championship at First Level
Hi Judy,
I just wanted to let you know that Eskandar, the 3 yr old we found in Belgium 2 years ago, won the US National Championship at First Level, yesterday, in Kentucky. His score was 75.5%.
Here is a photo of him, Michael and me in the awards ceremony.
Gwyneth (Pineland Farms)
---
02-02-2015
Daydreamer (Zinni)
Dear Mrs. DeWinter,
I am soooo pleased with Daydreamer (Zinni). She is just LOVELY and I don't think this could have been possible without your expert help and guidance. When she first got off the trailer she was calm and this proved itself true all through the rest of the day and long afterwards. I think the snow shocked her a little but she has many new and cozy blankets and seems warm enough. (At least warm enough to nicker and trot to the gate when I come to bring her in!) Whenever I ride her she tries her best and is very responsive. Her canter is heaven!!! So overall I would just like to say thank you soooo much for your help finding her I think she is the best horse I could ever have! Please tell her breeder that she is happy and loved in her new home
Sincerely,
Katie Robinson

---
17-11-2014
Zarthan in Johannesburg
Dear Judy
Just to let you know that Zarthan has arrived safely in South Africa. He will be standing in quarantine for a month or two.
Thanks again for being so kind and helpful. Gisèle can`t wait to start her lessons on him.
Kindest regards
Annie

---
24-09-2014
Beau installed at his new home
Hi Judy
Just to let you know, he arrived safely this morning. Michelle and I rode him this afternoon and he did not put a foot wrong.
Here is a picture of him in his new home - it is a beautiful yard and he will be really well looked after. You can tell his previous owners that he has found a good home, and send them this picture.
Thanks
Sue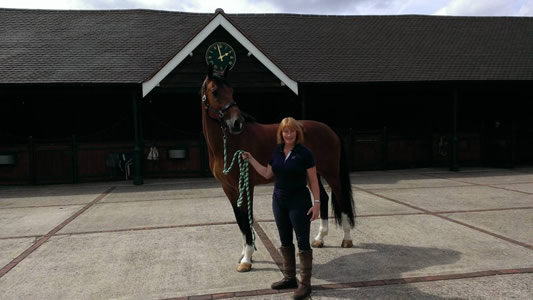 ---
01-09-2014
Bonaparte alias Bugatti
Just to let you know that I took Bugatti for a lesson today with Andrew Gould and also my trainer, who trains with Carl Hester, also came to watch me!
Bugatti was super. They both really liked him. Andrew said that his walk and canter were fantastic, that the horse had big scopey paces and was very uncomplicated. He said that he finds the lateral work very easy and seems very good in the contact.
My trainer was lost for words, all he could say was stunning and fabulous mover, and he usually has a lot to say! He said that the horse was better than I said he was!
Andrew also said that he is a real stunning looking horse and that we will do very well in competition!
So not bad really!!! Watch this space!!!!!
Very best regards, Marlene x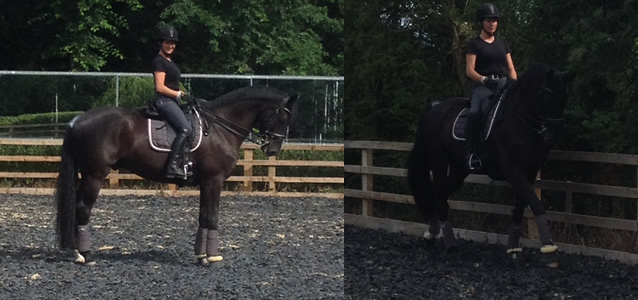 ---
01-09-2014
Vivaldi
Hoi Judy,
deze ochtend vroeg is Vivaldi in Calgary geland, alles is goed verlopen. Na vet check en customs is hij om 7u gearriveerd op stal. De rit van de luchthaven naar de stal vond hij iets minder prettig gezien hij afscheid moest nemen van zijn reismakkers en alleen moest verder reizen. Eenmaal toegekomen was hij niet zeker of hij wel van de trailer zou komen. Mits aanmoedigingen vlotjes mee naar zijn voorlopige quarantaine stal, ietsje gegeten en gedronken, lekker gerold... En daarna gelijk naar een kleine paddock waar hij nu lekker in het zonnetje staat te bekomen van lange reizen en hij wat kan socializen vanop afstand.
Op stal vinden ze hem er goed uitzien en is de belangstelling groot... en hij is zelf niet veel afgevallen, gelukkig maar.
Volgende update volgt na de eerste rit, we geven hem eerst nog een 2tal daagjes om volledig te bekomen en de nieuwe routine gewoon te worden.
We zijn allemaal zo opgelucht dat hij veilig gearriveerd is en dat alles zo vlot verlopen is.
Nogmaals bedankt en tot mails,
Marc & Gaelle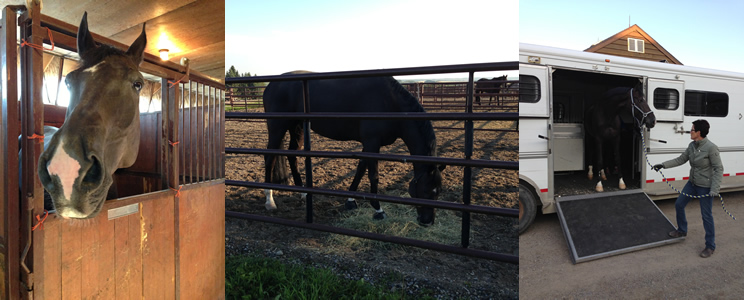 ---
01-09-2014
Welcome my new horse in Prague
Dear Judy,
I would like to thank you for everything. Our yesterday meeting and the whole stay in Holland was perfect. We had great time and now I am looking forward to welcome my new horse in Prague :).
I am sending you two memories for yesterday. On one of the photo I can see two beautiful blond ladies and also very beautiful horse. What a combination :)!
I am also sending few photos of Petra and her stallion just for imagination. He has a great spirit and worked very hard for her. Now is time to find him new home. She is thinking about our brainstorming yersterday so lets see and I let you know.
Have a great day. We are leaving to Normandy on Wednesday :)
Many Greetings
JUDr. Kateøina Øíhová, MILE., Ph.D.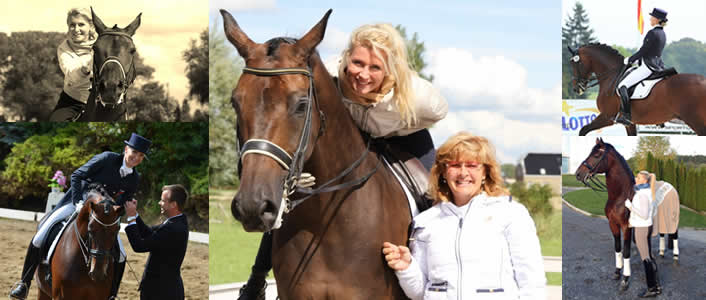 ---
11-07-2014
First ride at third level with Winston
This was our first show since Winston's colic surgery a year ago. It was just the "ride a test " at Singletree, but Winston was super good. Karen made us wear our full show rig so note my fancy new helmet with wider brim against the sun, and my fancy new light weight jacket (Italian?) that is quite fitted but very comfortable to ride in.
We have plenty of things to work on. Getting a 72.5 was fantastic ( my highest score ever) but consistency is the name of the game. We'll see how things go one show at a time.
I'm very proud of Winston!!!
(Photo's by Phil. Today we are off to Kansas City to see Melina and family!
The house is "staged" and will go on the market soon. Needless to say, we are exhausted.)


---
28-03-2014
Dandro & Yana
A few pictures of Dandro!
Just so good to receive pictures from horses who are doing well after they have been sold.
This horse Dandro is doing very well with his qoner Yana Rydnik in Russia.
---
28-03-2014
Cailin & Fiorano
Hi Judy,
Fiorano has arrived safe and sound! He was great travelling yesterday and after a bit of lunging and a ride he went out for turnout today. He has been so perfect! Even with all of this strange snow. As you can see he is well bundled up and doing great! Could you please let his previous owner know he is doing well?
Thanks so much for all you have done for me! This is just the start of a great partnership for Fiorano and I. And even though it doesn't look possible, our first show here is in 8 weeks....we just need to get rid of the snow!
Cailin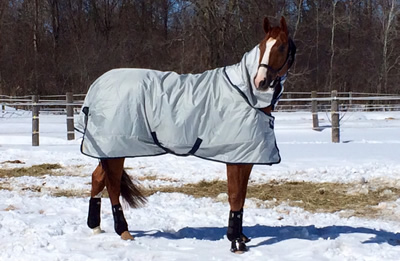 ---
04-12-2013
Yoni en Society
Hoi Judy,

Het gaat echt supergoed met mij en Society!!!

Je weet nog dat ik met hem ben gestart in Juli vorig jaar in de klasse L2 en nu mag ik al ZZ-licht gaan starten!

Aanstaande zaterdag ga ik voor het eerst Junioren starten en heb me ook geselecteerd voor de finale
regiokampioenschappen! Hoop dat wij ons dan kunnen plaatsen voor het NK!!!

Verder was ik met Society, in mei dit jaar, ook geselecteerd voor het Talententeam Zuid-Holland!

Ben zo ontzettend blij met hem Judy, want evenzo belangrijk is dat hij zo ontzettend lief is en voel iedere dag meer
dat we echt een combinatie worden!

Veel liefs,
Yoni Heijmans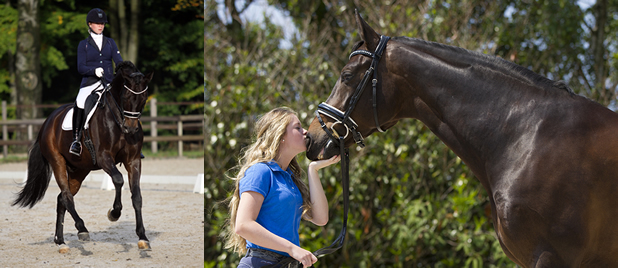 ---
08-11-2013
Beth & Karen
Hi Judy!
Karen and I had a complete blast riding with you! Our six days went by way too quickly. I learned some good things, experienced well trained horses, and loved watching you as you rode. You have a great feeling and empathy for horses - and the riders!
I'm thinking this is your birthday weekend. Karen and I will imagine you at the Elite Equine Auction Gala. It will be a spectacular night, I am sure!
Thank you again for a wonderful horse vacation! I really hope we can do it soon again.
Fondly,
Beth
---
30-09-2013
Zandor
Hi Judy,
How is everything with you ?
We had a good news about Zandor for you. Last weekend, we had a dressage game. Zandor participated in a L class with Ko. He got a score 61.8% and 5th place!!
It was a first time challenge so that many people, judges and instructors, were interested in him. Then, I took part in second level class with Zandor. He got 1st place and we received cash awards!! :-) We are so proud of him. Thanks to you, we are very happy with him. Next month, we will take part in another game in Tokyo. So, I will let you know about it.
Cheers,
---
30-09-2013
Anthony / Unico
Hey Judy,
Thought I would send you out a note as show season has finished in Alberta. I must begin by saying that Anthony is a LOT of fun. I only got out to 3 shows as we purchased the new riding stable and I have been VERY busy. I showed PSG and I1 and at the final show, our Western Regional Championships, we emerged the champions. I am now home for the winter and working like crazy on the piaffe passage.
I think Anthony is a complete Albertan now. He has enjoyed his full acre of private turnout daily; having learned to graze and stretch his legs. He is funny to watch. When he wants water, he puts his head up and has a nice, contained canter to the waterer. He has his drink and then canters back to wherever he was last grazing. Most rewardingly, when I go to the gate to catch him, he usually trots or canters to me! I'm not sure he is ready to face the very cold winter but at least his barn is heated so he will only go out as it suits him.
Hope things are well for you, Joe and your little one.
Carol
---
04-07-2012
Amadeus
I just wanted to give you a quick update on Amadeus. I love him so much! He is incredible. We showed second level this season and won several classes at the Palm Beach Dressage Derby series, with scores of 67 and 68%. Although he has had some growth spurts that slowed down his progression a bit, he now has his changes and a super start for piaffe. I am training in Wellington now, but he and I travel to Poulins for lessons. Hope all is well with you and your family!!
Take Care,
Amy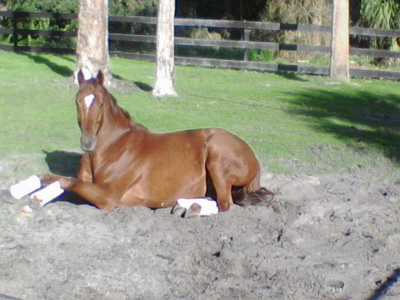 ---
04-07-2012
Bianca Kofman
Hallo Judy,
Aangezien ik u had gevraagd of Bossa Nova ingevlochten op stal kan blijven staan ivm met wedstrijd, dacht ik u even een kort verslagje te sturen van de wedstrijd van vanmorgen. Hij is superbraaf met invlechten, en kon inderdaad gewoon los in zijn box staan daarna. De halve stal verklaarde me voor gek, met windkracht 5 tot 6 buiten op een grasveld met 6 ringen in the middle of nowhere te gaan starten met een paard waarmee ik over het algemeen lekker in een geïsoleerd binnenbakje rijd..."O," zei ik ,"maar Bosso is niet anders met wind, op gras, of op een groot terrein. En hij kijkt nergens naar, dus dat komt wel goed." Dat kon m`n stalgenoten niet echt overtuigen, want ja, "je bent nog nooit ergens geweest met `m. En hij kijkt hier toch ook af en toe ergens naar? Én het is een Krack maal Cocktail. Weet je wel zeker dat je gaat?" Toen de bangmaak-verhalen begonnen, vond ik het wel tijd om op te stappen. Na wat twijfel of ie nu wel of niet het wagentje in zou gaan, ging Bosso mee op pad richting wedstrijdterrein. (laden is nog niet z`n favoriete hobby...). Hij werd in eerste instantie op het grasveld wel even twee keer zo groot als normaal, maar na een paar rustige drafrondjes was de spanning er aardig af. Zelfs toen er een paard in volle galop bokkend zijn ruiter eraf gooide en voorbij sjeesde, bleef Bos bij de les.
De proeven gingen fijn, hij keek zoals verwacht nergens naar, z`n aanleuning was erg fijn (die wordt steeds beter, het was even stoeien daarmee toen ik `m net had gekocht, maar dan heb je ook wat, zullen we maar denken ) en we konden met een tevreden gevoel met een lang teugeltje weer richting wagen. Door m`n eigen superDOMME fouten (in de eerste proef VERGETEN te groeten! We kwamen binnen, halt, en weer verder, ja, dat kost punten...) en in de tweede proef een keer verkeerd gereden, gingen we net niet met Bosso`s favoriete kleur oranje naar huis...Maar tweede van de 14 combinaties, en winst, op onze eerste wedstrijd, en ook nog in de storm, vond ik zelf niet zo verkeerd ! Ik zei net tegen Bos: "joh, je bent nu officieel M-paard!", maar het boeide `m niet echt...hij was lekker aan het kliederen met z`n slobber.
Een vriendelijke groet, en ik kan het niet vaak genoeg zeggen: wat heeft u me blij gemaakt met dit fantastische paard!
Bianca Kofman

---
11-12-2011
Beth Nicholson
Hi Judy (plus Sue and Diane),
I just had my first Colorado lesson on Winston (Wannadoo) and am so happy.
He is a joy to ride and I know he will teach me so much. He is also the most affectionate horse I have ever met. He really loves to be loved on!
What a gem! I am especially happy that he is settling in well despite the cold and yet another new environment. On Tuesday when he got his first time on the lunge line he really took advantage of the chance to let off the stress he had been under. I have never seen a horse display such athletic ability and literal "airs above the ground" that would have impressed even the Spanish Riding School! By the next day he was fine on the line and the next day Karen rode him. We will take things slow and easy, but so far he is doing very well and seems very happy.Thank you so much for all your help - I am so excited about all the new things that I will learn with Winston.I will try to keep you up to date a bit as things go on. DC is also doing very well, but Karen exercises him earlier in the day so I haven't watched her ride him as yet.
All best wishes to you and your wonderful family!
Beth
---
18-03-2010
News Of Tristan
Dear Judy:

My friend at the barn took this beautiful picture of Tristan while I enjoy some vacation time over the new year. Shannon described him as the Brad Pitt of horses and I totally agree!

On Christmas Day, he gave me 7 clean and straight 2-time tempi changes. On the 26th, he gave me 2 clean one-time switches, back to back. We practice piaffe every day. I am just simply amazed at how this horse is so willing and intelligent and just a pleasure to ride every day. It is hard to believe that I have only been riding him one month but of course, I have the best help from Steffen and Shannon!

Please tell Remy that he is doing well and giving me a lot of joy.

Happy New Year!
Akiko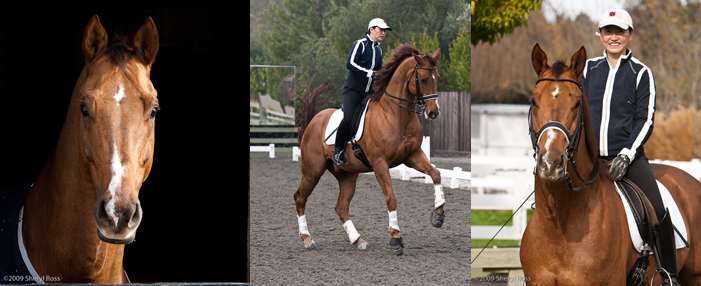 ---
30-11-2009
Michele Price USA
Hello Judy, Just to let you know that Amando and I have the most
wonderful relationship! We are together almost everyday unless I have
somewhere else to go. I have three granddaughters, so I try to spend time with my family too! Everyone always tells me they want to be my horse!!
They see all the love and consideration I show to Amando! It's difficult
to believe that he is seventeen. He is in great shape, although I have to try to keep him from gaining too much weight! I have a trainer, licensed
from Germany. He's been my trainer for approx.seven years and loves Amando
very much! Amando is so intelligent and athletic. He is very happy. I
have him boarded at a wonderful facility that is a forty-five minute drive
from my home each way. I drive there six days a week so you can tell from that what a great place it is! I can't say "thank-you" enough for
bringing Amando and me together. He is part of my family and he makes me
smile every! Harry (my husband) sends his regards. He thinks Amando is amazing too!.

---
23-08-2009
Etta email to Judy update Sire Carlos
Hello Judy!
Thank you for selling this nice, clever horse to Emmi!
They are made to each others, everything seems so easy for them.
There was a Danish judge and he said to Maisa that there was only one horse in the competition and the rider of that horse was also from another planet - comparing to other competitors... We were so proud of Emmi and her horse!
many thanks
Etta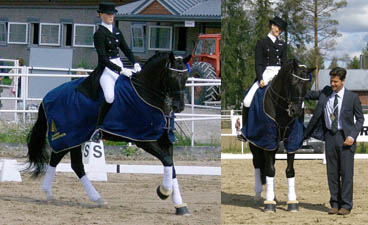 ---
23-08-2009
Email from Dave Thind
Thanks ever so much for arranging for us to view so many quality horses on such short notice. As always, your service was friendly, honest and extremely professional. Anne-Marie and her mother Synove also enjoyed meeting you and appreciated your help.
Warm regards from Norway,
Dave Thind
Certified 'Trainer A', German F.N.
---
20-06-2009
Email Amy to Judy Amadeus was sold to the USA
Hi Judy! How are you?
I just wanted to thank you again for a wonderful week at your place. I learned so much from you and couldn't think of a better way to "catch up" and fast track my riding back to a reasonable standard after having so much time off riding consistently.
Unfortunately I am unable to ride the horse my friend was letting me ride anymore but I am having lessons with this lady I told you about...unfortunately the FEI horse I was supposed to be riding is 23!! And really should be completely retired...I am having a much better time riding her 2 other horses-the whole time I am reminding myself about that right shoulder and contact! ... I really feel like my riding has improved so much thanks to you!
There isnt much around the jind of horse i want to buy so have decided ill probably import in the future. in the meantime I thought id let you know that I have been offered a riding job at a barn in Holland..so I may be going there in April or so next year! I will keep you posted as I'd love to come visit while I'm there :)
How is Uptodate? I miss him :)
Anna x
---
20-06-2009
Email send by Aurélie Verhaegen of Belgium
Hello Judy,

I bought Amor from you almost two years ago and although you may remember
he was a little stressed out at first, we have been doing great and he`s
really become my best friend and a great and patient professor.

Hope you`re doing good!
Aurélie
---
19-06-2009
Greetings from Finland
Hi Greetings from Finland Dressage Center !
We want to thank you for brought us together with Revolution. He had been super nice and good all the time here in Finland! We have start competing here and finnish judges loved him! I allso love this horse very much. So thank you!!
Greetings,
Katariina Kuokkanen & Revolution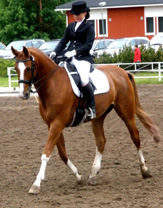 ---